Bradford Health Services
Warrior Campus
Drug and Alcohol Rehab Serving Warrior, AL
Bradford Health Services Warrior Lodge & Limestone Ridge Campus

Residential Treatment Programs for Alcohol and Substance Use Disorders in  Alabama
1189 Allbritton Road
Warrior, AL 35180
Bradford's Inpatient Addiction Treatment Center near Birmingham, AL
With Bradford, you never face your addiction alone. The professional staff at our Warrior Lodge and Limestone Ridge campuses are committed to helping those affected by alcohol and drug addiction heal their mind, body, and spirit. Located near Birmingham, we offer 24/7 guidance, support, and personalized care, combining innovative clinical methods with 12-Step principles to build a foundation for recovery that lasts.
Services offered at our Alabama Residential Rehab Facility:
Individual and group therapy sessions
Recreation, mindfulness, and wellness activities
Alcohol & Drug Rehab Programs Tailored to You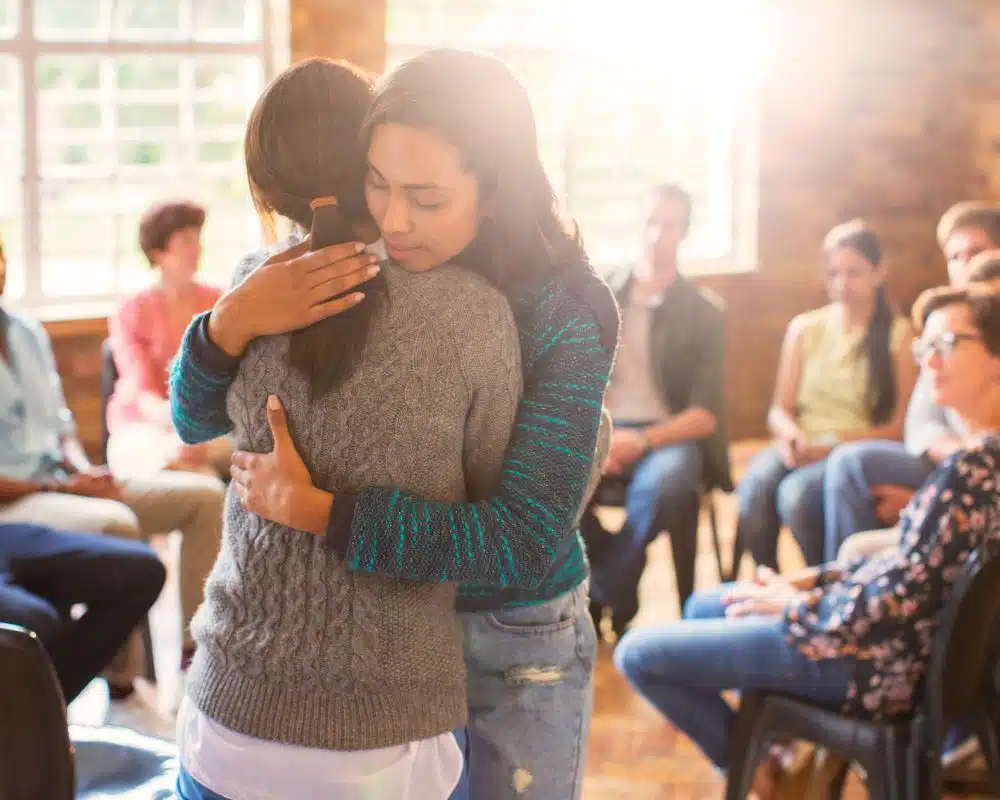 Addiction Treatment For Your Needs
Whether you need a listening ear, a helping hand, or a heart-to-heart connection, Bradford is your recovery refuge. We listen to you, learn your story, then create a customized treatment plan for every step of your recovery journey.
The treatment programs offered on our Warrior campus are tailored for each patient. With a variety of options, including multiple levels of care and specialty programs, we design a care plan that matches your physical, emotional, spiritual, and lifestyle needs.
Recovery is a journey we take together.
Recovery is a journey we take together.
Overcome alcohol & drug addiction in a supportive recovery community.
Bradford's Central Alabama residential rehab facilities, Warrior Lodge and Limestone Ridge,  provide a safe and comfortable place for people to begin their recovery by directly addressing substance use and mental health concerns. Set within a tranquil forest, the natural beauty and lodge-like atmosphere provide calm and clarity, allowing patients to focus on their sobriety.
Clinically-Proven Addiction
Rehab Programs
Addiction treatment programs at Bradford blend 12-Step teachings with innovative, research-proven clinical and medical treatment models. Our expert medical, clinical, and recovery support professionals provide quality care accredited by the Joint Commission with outcomes recognized by leading insurance companies.
Led by our compassionate and experienced team, the therapeutic elements of our program include Cognitive Behavioral Therapy (CBT), Dialectical Behavior Therapy (DBT), Family Therapy, Individual and Group Therapy, Recreational Therapy, and more.
Find Sobriety in the Beauty of Nature, with the Comforts of Home
The welcoming natural environment provides a serene and inspiring backdrop to start your recovery story. Our facilities are safe and secluded yet convenient to Alabama's major cities and interstates.
Addiction is an isolating disease, which is why our Warrior campuses were designed to foster community, a core component of our treatment model. The home-like amenities of our cottages and spacious dining and recreation areas offer comfort and the opportunity for connection with like-minded peers.
A Healthy, Whole Way of Life in Recovery
 Exercise promotes the release of endorphins, which are highly beneficial to a system starved for feel-good chemicals that the body naturally produces. Our whole-person recovery approach includes a focus on physical wellness and mindfulness through fitness, yoga, and meditation activities.
Our Warrior Lodge and Limestone Ridge campuses also feature outdoor ropes courses for Adventure Based Counseling, and a little fun. One of our most popular activities, the Challenge Courses represent overcoming obstacles in recovery through the power of community.
We accept insurance plans from most providers, including Blue Cross Blue Shield, United Healthcare, Humana, Aetna, and Veterans Community Care programs. Contact us for a free insurance verification to find out what benefits are available through your plan.
SPECIALTY REHAB PROGRAMS AT WARRIOR LODGE & LIMESTONE RIDGE
Our specialty inpatient programs at Warrior Lodge allow us to develop effective treatment plans that balance specific needs and circumstances, such as career requirements, life stage, and quality of life.
The healthcare professionals program offered at our Limestone Ridge campus addresses the specific pressures and stressors that professionals such as nurses, physicians, veterinarians, and other healthcare providers face.
The professionals' program, located at our Limestone Ridge campus, confronts common stressors that professionals face, including demands for time, management issues, burnout, and many other work-related stressors.
Young adulthood is a unique period in life, and we understand that emotions, spirituality, and mentality are often different for younger people. Our young adult's program uses research-based programming to provide top care to emerging adults.
Long-Term Recovery is Within Reach
Long-Term Recovery is Within Reach
BRADFORD'S EXTENDED CARE ALCOHOL & DRUG REHAB PROGRAM
Those who have had difficulty establishing or maintaining long-term sobriety may need additional care to overcome the barriers to their recovery, including unresolved grief, trauma, chronic pain, or co-occurring disorders.
Bradford's Extended Care Program, located on our Limestone Ridge campus, provides specialized programming and intensive therapy designed to uncover and address issues such as weak support systems, poor coping skills, and cognitive impairment due to substance use.
The longer stay allows us to guide patients in confronting challenges and help them learn healthy ways to manage triggers and prevent relapse. Extended Care also accommodates return-to-work and licensure requirements for patients who work in safety-sensitive jobs.
Serving Those Who Have Served
Drug and Alcohol Rehab For Veterans
Bradford's Veterans Recovery Program combines our proven clinical substance use disorder treatment with an innovative approach to care developed to address the unique needs and challenges of America's veterans. Our dedicated program liaisons work directly with Veterans Affairs and guide each patient from the beginning, ensuring a smooth and efficient admissions process.
The Bradford


CONTINUUM OF
care
Bradford offers a complete continuum of care across its network, making it possible to customize treatment plans to match each patient's specific needs and circumstances.
Bradford's inpatient rehab centers offer intensive treatment programs for alcohol or drug addiction in a safe, supportive residential environment.
Safe, comfortable, and supportive: detox at Bradford helps you begin your recovery story.
Our Extended Care program helps patients who've had a difficult time establishing and/or maintaining
long-term sobriety.
Commute to addiction and mental health treatment, and begin your recovery journey in a supportive community.
Our programs offer morning and evening sessions throughout the week and can provide more flexibility with your schedule.
Our Reprieve programs use a unique blend of intensive education and reflection on the 12 Steps with community service and life skills programming.
BRADFORD ALCOHOL & DRUG REHAB CENTERS NEAR BIRMINGHAM
No matter where you are on your journey to recovery, Bradford has a program and place that will fit your needs. Our Alabama addiction treatment centers are conveniently located across the state, offering premier addiction treatment close to home.
Bradford's Rehab Facilities in Alabama:
Warrior – Warrior Lodge
Warrior – Limestone Ridge
Rehab Centers Convenient to Alabama:
ADDICTION TREATMENT RESOURCES
Addiction & Recovery Resources
At Bradford, we not only treat drug and alcohol addiction but are dedicated to educating people on how to spot, heal, and help prevent addiction.
Understanding Addiction
Addiction is a chronic disease that affects each person differently. Knowing how people develop a substance use disorder and the common signs is critical to understanding.
Clinical Education Courses
Presented by experts across the treatment industry, our quarterly webinars provide contact hours for providers and feature various addiction and mental health topics.
One Call Can Change

Everything
We're here for you. Recovery advisors are available 24/7. 
 What is the cost of residential drug and alcohol rehab in Alabama?
The cost will vary depending on the specialty and program length that is recommended to you. We accept most insurance plans at our Birmingham-based rehab center and offer several payment options that make sobriety a reality for any budget.
How long is the residential rehab program at Warrior Lodge?
Our Warrior Lodge campus offers several options for inpatient programming, meaning the length will vary by individual. Our clinical professionals will determine the length of your stay depending on your needs and situation.
Does insurance cover addiction treatment at Warrior Lodge or Limestone Ridge?
Our Warrior residential facility accepts most insurance providers in Alabama. If you are unsure of what your plan covers, you can verify your benefits by visiting our Insurance page.
What kind of therapy will I receive in an addiction treatment program?
In our inpatient program, you will receive a mix of clinically supported individual and group therapies. Building a foundation of recovery within a group of like-minded peers will lead to a sustained sober lifestyle.
Can I smoke while in residential rehab?
There are multiple designated smoking areas at our Warrior campus.
Is there a licensed professional on the Warrior campus?
Our facilities have licensed medical professionals on-site every day of the week.
Will I have a roommate in rehab?
Addiction is a disease that thrives off isolation. We place each of our residents in a room with someone else to encourage fellowship and accountability.
Are the cottages coed?
The cottages at Warrior Lodge are gender specific to help for a secure and comfortable rehab experience.
Can I have my phone while in rehab?
We recommend that all phones and electronic devices be left at home for inpatient addiction treatment at Bradford to ensure you get the full benefit of our treatment program. If an electronic device is brought to campus, we will keep it locked up, allowing phone calls to be made from a campus phone twice daily.
What can I bring to with me to rehab?
A list of items allowed can be accessed via our Admissions page.
doesn't mean you have to stay there.
Since we opened our doors in 1977, Bradford Health Services' innovative residential drug and alcohol rehab programs have been making healing and hope possible.
For more information or immediate confidential help, please call us anytime, 24 hours a day, 7 days a week.