Residential Alcohol and Drug Rehab Near Knoxville, TN
Cornerstone of Recovery
Residential Treatment Programs for Alcohol and Substance Use Disorders near Knoxville, TN
4726 Airport Hwy
Louisville, TN 37777
Bradford's Knoxville, TN Inpatient Addiction Treatment Center
At Cornerstone of Recovery, A Bradford Recovery Community, we're commited to saving lives, families, and jobs by providing hope, healing, and recovery to those affected by alcohol and drug addiction. Located near Knoxville, TN, our 24-acre campus features natural elements and modern amenities. Here, we take a comprehensive approach to recovery, with proven treatment programs that focus on the whole patient: spirit, soul, and body.
Our Cornerstone of Recovery residential rehab facility features:
Individual and group therapy sessions
Recreation, mindfulness, and wellness activities
Specialty Programming and Career-Based Tracks
Alcohol & Drug Rehab Programs Tailored to You
At Bradford, we know that addiction affects every person differently, which is why our evidence-based, proven rehab programs include customized treatment plans for each patient. At our Cornerstone of Recovery campus, we have several options to ensure that you receive treatment that best fits your needs. Unique to Cornerstone are our Newcomers and Recovery Renewal programs, featuring therapy methods and peer group work that aligns with your recovery stage.
Newcomers Program
Our Newcomers program is made for those entering residential addiction treatment for the first time. In this program, you will learn about the disease of addiction, be introduced to the 12 Steps, and learn how to begin healing using evidence-based, therapeutic methods led by our master's level clinicians and therapists.
Recovery Renewal
The road to recovery can be challenging, and many do not see long-term success on their first attempt. We understand that your needs differ from those seeking treatment for the first time. Our Recovery Renewal program addresses the deeper issues, such as trauma and resentment, that often prevent someone from maintaining sobriety.
A Refuge for Recovery in East Tennessee
Cornerstone of Recovery provides a place where mental health and substance abuse issues are addressed head-on so that healing may begin. Our inpatient rehab facility's amenities and features were designed for calm and convenience. Modern architecture within a beautiful sprawling landscape, with views of the Little River and Great Smoky Mountains, gives our patients a safe, serene setting to focus on sobriety.
Clinically-Proven Rehab Programs
Here, our inpatient and intensive outpatient drug rehab and addiction treatment programs are based on the 12 Step approach to recovery and the Bio-Psycho-Social-Spiritual treatment model. We provide medical detox services that allow our patients to withdraw from drugs and alcohol safely. The therapeutic elements of our program include Cognitive Behavioral Therapy (CBT), Dialectical Behavior Therapy (DBT), Family Therapy, Individual and Group Therapy, Activity Therapy, and more. Each patient will be involved in individual and group therapy with a master's level therapist and other processing groups that offer counselor and peer support.
Recover from Addiction in Comfort & Community
At our Cornerstone of Recovery campus, we designed our facilities to foster a supportive community, with the comfort of our residents also in mind. We understand that addiction is a disease that thrives off isolation, which is why building community is a core component of our treatment model. The convenient, modern amenities and neighborhood-like atmosphere of our campus encourage connection with like-minded peers experiencing similar challenges.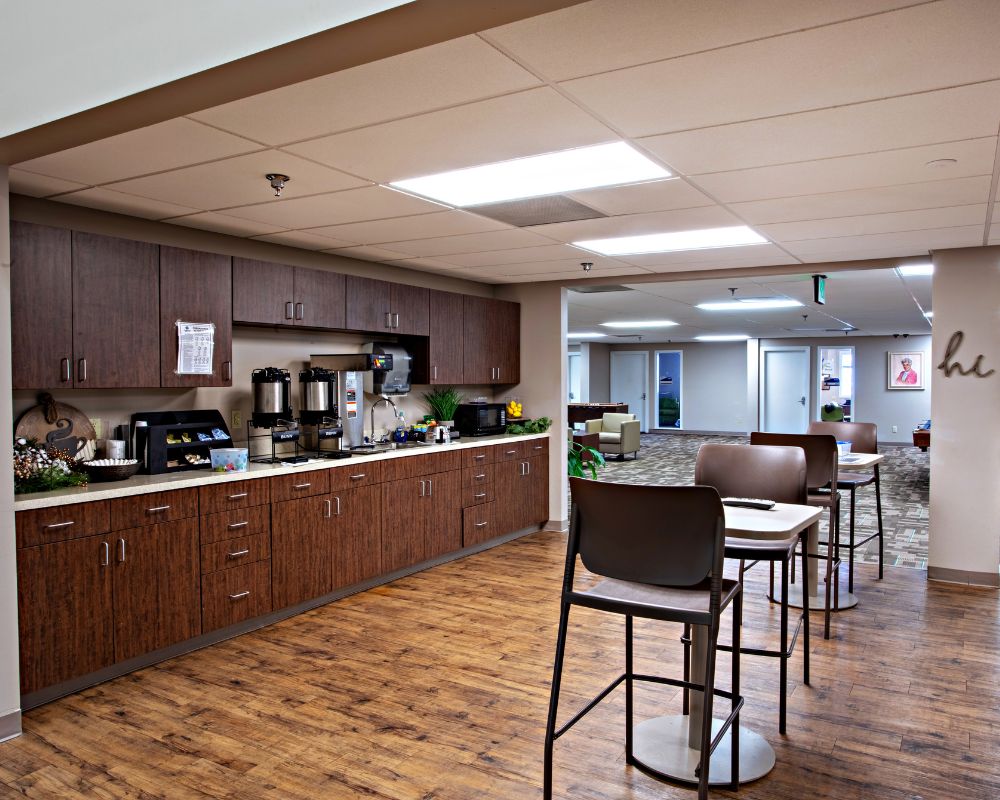 Exercise & Wellness in Recovery
When patients arrive at Cornerstone of Recovery, they often are broken: mind, spirit, and body. Cornerstone's Fitness and Wellness activities are integral to the therapeutic process and our whole-person recovery approach. Exercise promotes the release of endorphins, which are highly beneficial to a system starved for feel-good chemicals that the body naturally produces. With our 15,000-square-foot gym, ropes course, and yoga areas, patients can participate in physical recreation daily.
Successfully overcoming addiction requires effort and commitment. While our rehab programs may be intensive, we also know that to experience recovery fully, you also need healthy outlets and fun without drugs or alcohol. Our recreation areas allow you to indulge in leisure activities such as playing pool, shuffleboard, board games, and foosball, as well as enjoy movie nights and access to various musical instruments.
We accept insurance plans from most providers, including Blue Cross Blue Shield, United Healthcare, Humana, Aetna, and Veterans Community Care programs. Contact us for a free insurance verification to find out what benefits are available through your plan.
SPECIALTY REHAB PROGRAMS AT CORNERSTONE OF RECOVERY
The specialty inpatient rehab programs at Cornerstone of Recovery offer customized treatment plans that balance our proven methods with specific needs and circumstances, such as career or professional license requirements, faith, life stage, gender, and quality of life.
The healthcare professionals program offered at our Cornerstone of Recovery campus addresses the specific pressures and stressors that professionals such as nurses, physicians, veterinarians, and other healthcare providers face.
The aviation program, located on our Cornerstone of Recovery campus, addresses the specific stressors that professionals face in the industry, including lack of sleep, seclusion, long work hours, and many other work-related stressors.
Our Railroad Program features a compassionate team with a deep understanding of recovery and the railroad industry. We help railroad employees chart a new course toward sobriety for a healthy, productive, and fulfilling life and career.
Cornerstone's extended care program is tailor-made for those who have had difficulty maintaining long-term sobriety. Our personalized programs address barriers to recovery, such as unresolved grief, trauma, chronic pain, and co-occurring disorders.
Cornerstone's Steps of Faith program combines our proven addiction treatment methods with biblical, Christ-centered teachings allowing you to build a strong foundational relationship with God.
Young adulthood is a unique period in life, and we understand that emotions, spirituality, and mentality are often different for younger people. Our young adult's program uses research-based programming to provide top care to emerging adults.
For more information or for immediate, confidential help, we're here for you, 24 hours a day, seven days a week.
Serving Those Who Have Served
Drug and Alcohol Rehab For Veterans
Bradford's Veterans Recovery Program combines our proven clinical substance use disorder treatment with an innovative approach to care developed to address the unique needs and challenges of America's veterans. Our dedicated program liaisons work directly with Veterans Affairs and guide each patient from the beginning, ensuring a smooth and efficient admissions process.
The Bradford


CONTINUUM OF
care
Bradford offers addiction treatment at every level of care, making it possible to customize treatment plans to match every patient's specific needs and circumstances.
Bradford's inpatient rehab centers offer intensive treatment programs for alcohol or drug addiction in a safe, supportive residential environment.
Safe, comfortable, and supportive: the onsite medical detox services at Bradford's residential facilities help you begin your recovery story.
Our Extended Care programs help patients who've had a difficult time establishing and/or maintaining
long-term sobriety.
A step down from inpatient rehab, patients in our Partial Hospitalization Program reside at home or other supportive living arrangement, commuting to our facility for intensive counseling.
Our programs, including intensive outpatient programs (IOP), offer comprehensive services with flexible schedules, allowing you to engage in home or work responsibilities while in treatment.
Our Reprieve programs offer an alternative to long-term rehab, using a unique blend of intensive education and reflection on the 12 Steps with community service and life skills programming.
ALCOHOL AND DRUG REHAB CENTERS IN TENNESSEE
No matter where you are on your journey to recovery, Bradford has a program and place that will fit your needs. Our addiction treatment centers are located across Tennessee, offering premier addiction treatment close to home.
Bradford's Tennessee rehab facilities are located in:
Bradford rehab centers convenient to Tennessee:
OUTPATIENT ADDICTION REHAB NEAR KNOXVILLE
Whether transitioning from a residential program or just beginning your recovery journey, Bradford's Knoxville-area outpatient services, offered at our Cornerstone of Recovery facility, provides top-quality care and support. We designed our outpatient programming to be comprehensive yet flexible, allowing you to engage in responsibilities at home or work while actively participating in treatment in convenient morning or evening sessions.
Our Outpatient Rehab Services Include:
• Intensive Outpatient Programs (IOP)
• Medication-Assisted Treatment (MAT)
•
Partial Hospitalization Programs (PHP)
• I
ndividual and Group Therapy
ADDICTION TREATMENT RESOURCES
Addiction & Recovery Articles
At Bradford, we aim to not only treat drug and alcohol addiction but also educate people to help spot, heal, and -hopefully- prevent addiction. 
Understanding Addiction
Addiction is a disease that affects each person differently. It is crucial we understand how people develop an addiction and the signs and symptoms commonly seen.
Clinical Education Courses
Presented by experts across the treatment industry, our quarterly contact hour-providing webinars feature a variety of addiction and mental health topics.
One Call Can Change

Everything
We're here for you. Recovery advisors are available 24/7. 
What is the cost of inpatient addiction treatment in Knoxville, TN?
The cost will vary depending on the specialty and program length that is recommended to you. We accept most insurance plans at our Knoxville-based rehab center and offer several payment options that make sobriety a reality for any budget.
How long are inpatient rehab programs at Cornerstone of Recovery?
Cornerstone of Recovery offers several options for inpatient programming, meaning the length of stay will vary by individual. Our clinical professionals will determine the length of your stay depending on your needs and situation.
Does insurance cover rehab programs at your facilities?
Bradford, including our Cornerstone rehab facility, accepts most insurance providers and plans. If you are unsure of what your plan covers, you can verify your benefits by calling our Care Coordinators at 888-762-3740.
What kind of therapy will I receive in a drug and alcohol rehab program at Cornerstone?
In our residential programs, you will receive a mix of clinically-supported individual and group therapies. Building a foundation of recovery within a group of like-minded peers offers a greater likelihood of a sustained sober lifestyle.
Can I smoke while on the Cornerstone of Recovery campus?
There are multiple designated smoking areas on our campus.
Is there a licensed professional on the Cornerstone campus?
Our facility has licensed clinical and medical professionals on-site every day of the week.
Will I have a roommate?
At Cornerstone, we believe that addiction is a disease that thrives off of isolation. We place each of our residents in a room with someone else to encourage fellowship and accountability. Rooms at Cornerstone are gender specific to help foster a secure and comfortable rehab experience.
Can I have my phone while in rehab?
We recommend that all electronic devices be left at home when entering a residential rehab program to ensure your full focus in on your treatment. If an electronic device is brought to campus, it will be kept in locked storage. Phone calls from a campus phone are allowed twice daily.
What do I need to bring with me to inpatient rehab? What items are not allowed at Cornerstone?
Entering an inpatient facility can be stressful because you may not know what you can and can't bring. A list of items that are allowed can be accessed via our Admissions page.
is to focus all of your energy
Since we opened our doors in 1989, Cornerstone of Recovery's innovative residential drug and alcohol rehab programs have been making healing and hope possible.
For more information or immediate confidential help, please call us anytime, 24 hours a day, 7 days a week.